Greece is one of my favorite countries in the world. The people are friendly, generous, and love life. They are welcoming and proud to share their heritage with the world. And what a heritage it is. They gave us functioning democracy. They gave us Plato and Aristotle. Through Aristotle they gave us Alexander the Great and many others.
Greece is also a beautiful country filled with natural marvels. It's arid climate preserves many of the ancient artifacts from Ancient Greece that are still to be seen today in places like the Parthenon, the Parthenon Museum, the archaeological sites all over the country.
I have spent a good bit of time in Greece. I was first there in 2001. I was there for the Olympics in 2004 and back four or five more times. I lead Steps of Paul tours of Greece now—taking groups to the places where the Apostle Paul travel on his missionary journeys through the country.
I have had the opportunity to sit down to meals with locals, leaders and everyday people like you and me. I have been in their homes and their workplaces. The more I meet the Greek people, the more I like them.
There is nothing more exciting than to be driving down a major highway and see two people who know each other parked in the emergency lane talking to each other. Their hands are waving, they are talking loudly, and it feels like an argument to me. When I turn to my Greek friend he smiles and says, no they are old friends catching up!
Athens is the place we usually end up any time you come to Greece. It is an ancient city with a modern pull on the heart of any visitor. I deal with Athens in another blog post so I will eave most of it there.
The one thing I will say about traveling in Athens is, don't get caught up only in the famous sites. Explore the city on your own. You should take some time and randomly walk around the city. Around every corner is another surprise waiting for you, ancient ruins being excavated or a beautiful modern building, side by side.
Though Athens is the heart of Greece to me, there is so much more. You have to take a trip to Corinth. This city by the bay is also the site of an archaeological dig that is open to the public. You can walk on the same stones the ancient Greeks walked on as they went about their daily business.
It is easy to get lost in time wondering through these pathways, thinking about the people who were here before you. Looking up toward the mountain behind the city or back down to the bay below. A soft breeze blowing through your hair and the sunning hitting the water, reflecting back at you. And for that one moment, time stands still with you in the middle of it.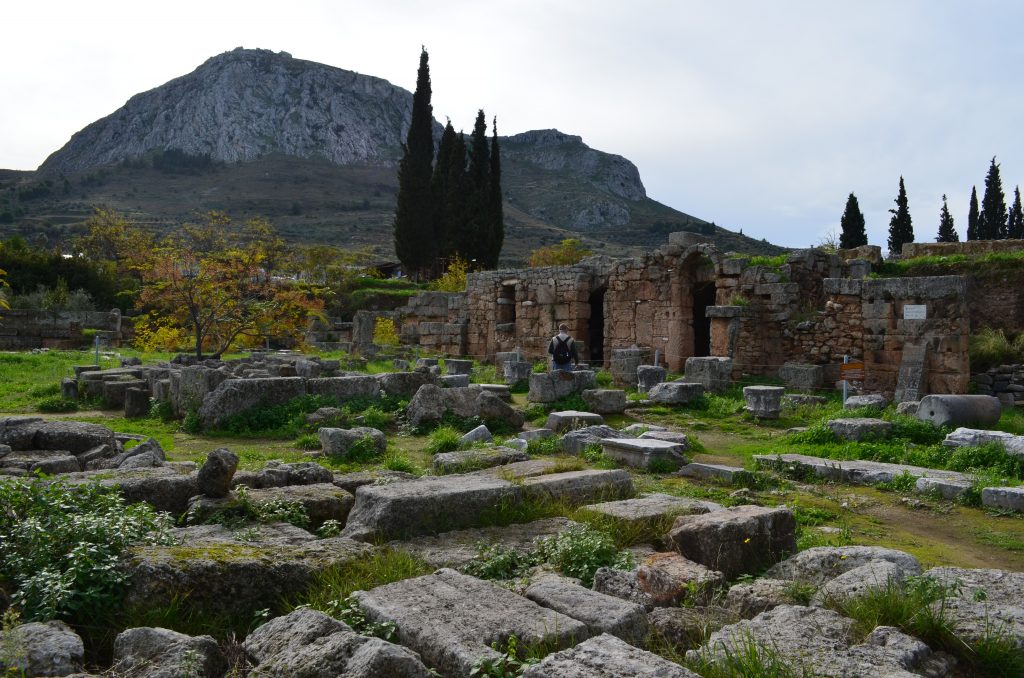 I could spend days here absorbed in daydreams and fantasies, but there is too much to see to stop here. You will also need to drive up the coast from Athens to Thessaloniki. This trip takes you through some amazing geography. For example, you will travel past Mount Olympus, but before you get there you will go through the plans where Alexander the Great bred his horses!
Thessaloniki sits on the sea. Just off the water, about two blocks in, is their marketplace with spices, food, clothes, and everything you need and don't need in one place. It is a great place to take in the sites, the sounds, and the smells.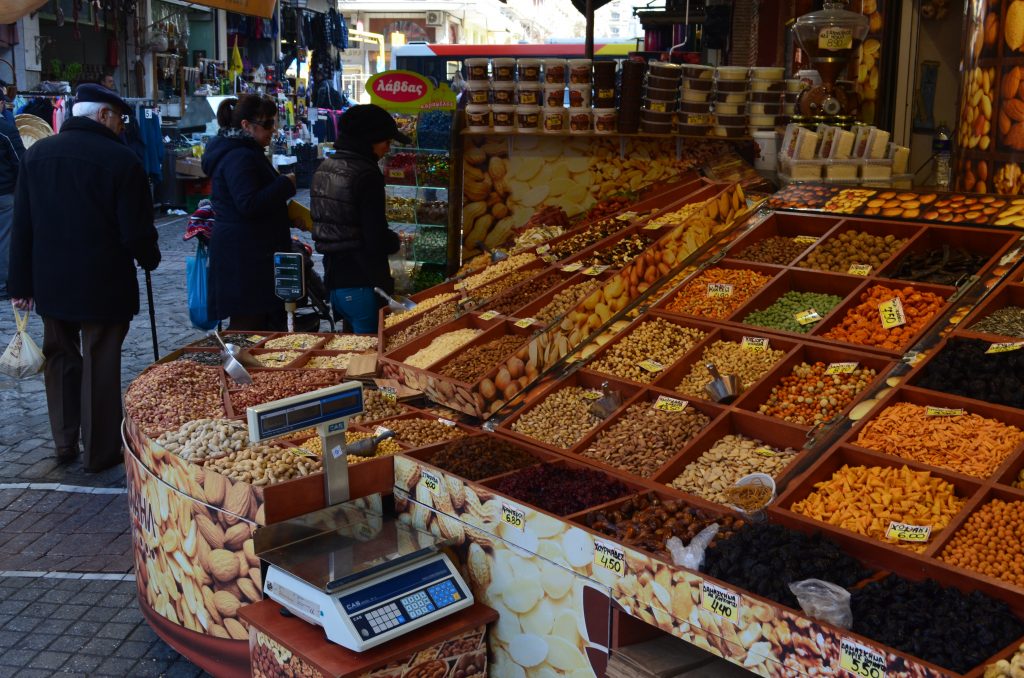 For just a few minutes, become a local. Shop for some spices, or some fresh fruit, or a bag. Slow down time and look through what the city has to offer for sale. Then enjoy the local produce.
Of course, Thessaloniki was also an important city to the Romans and the early Christian Church that was being planted throughout the region by the Apostle Paul. It was made a free city by Marc Antony, of Cleopatra fame. Like Athens there are ruins within the city, mingled with the modern and older buildings of the city. There are grand marble plazas near the port and five-star hotels. There are lessor hotels scattered throughout the city.
The city is scattered with beautiful Greek Orthodox Churches and ancient relics from when Paul was planting a church here. There are synagogues to be found among the churches.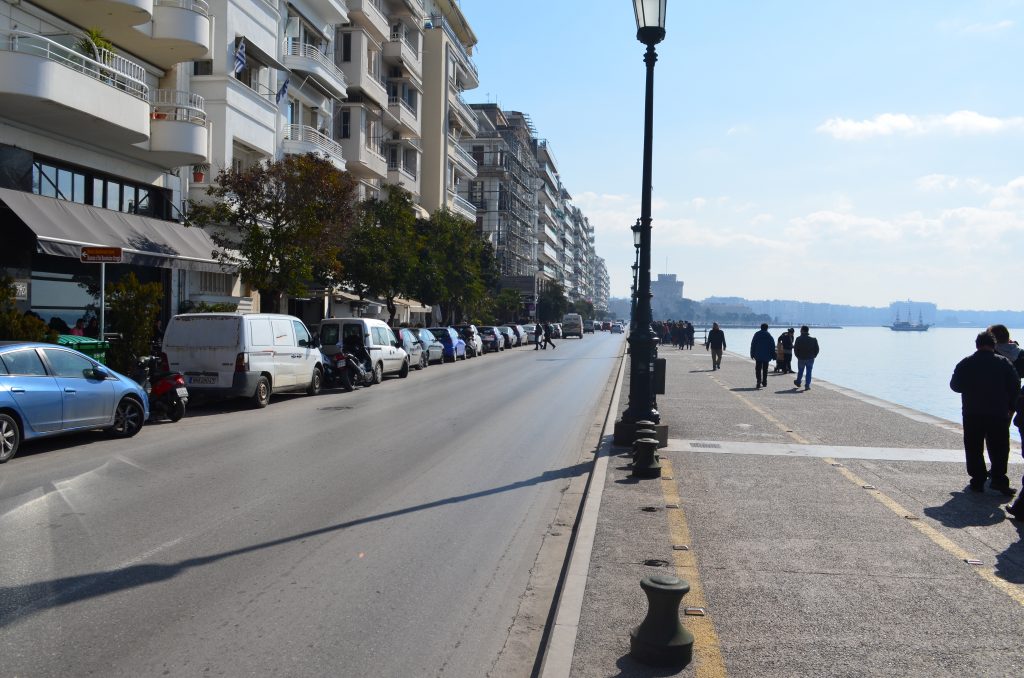 Take a few minutes and walk along the port to the White Tower that houses a museum about Thessaloniki. Enjoy the sunshine virtually year-round in this thriving metropolis which, at over one million people, is the second largest city in Greece.
In central Greece there is an amazing area that I stumbled on the first time quite by accident. We had rented a car and were driving back from Philippi, Thessaloniki, and Berea. We were headed back to Athens, but looking for a scenic route and man, did we find one. The town of Meteora, Greece is hard to describe. Sheer rock faces rise out of the ground and soar above everything in the area.
Many of the mountains have monasteries built right up to the edges of the cliffs. The setting looks like someone came along and dropped huge rocks out of the sky and left them. This area has been inhabited for nearly 50,000 years, even back during a mini Ice Age. There are signs of our ancestors living in the caves and building small stone buildings to protect themselves from the winds.
Imagine my surprise when I am driving down out of some beautiful mountains, only to find this sight waiting for me.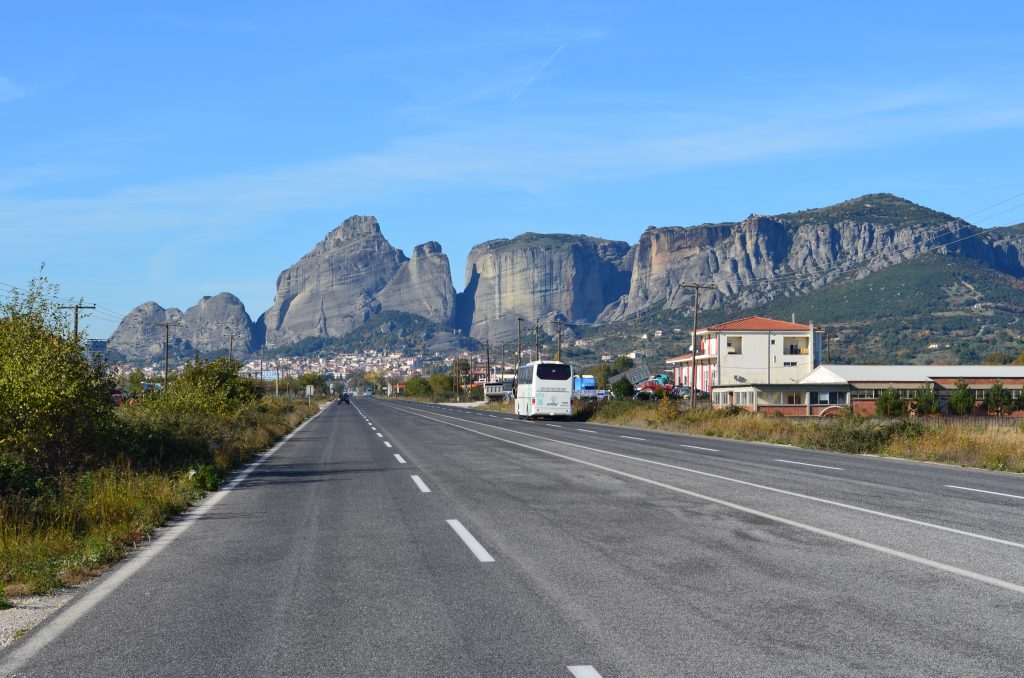 This is not what I expect to find in Greece. It looks almost like the setting of some old western movies made in America.
Greece is a country of great diversity, historically and visually. It always has something to give. This is just a quick look at some of what you can expect to see and experience when you are there.
If you are thinking about traveling and would like some help, contact me at [email protected]. Ask to join our travel newsletter to keep up with tours that we are currently planning. We can help you make memories that last a lifetime!